InfraStruXure Manager Appliance is a browser-accessible, user-friendly tool that makes management of your entire APC network-critical physical infrastructure easy. It enables the quick assessment of your present situation and notifies the appropriate personnel should situations that threaten availability occur. Analysis features help you to plan for changes in availability, power, runtime or cooling requirements. Reduce the complexity of your network-critical physical infrastructure by managing your APC devices from a single console or by integrating InfraStruXure Manager into your preferred management system.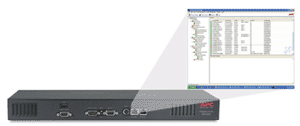 APC's UPS Network Management Cards provide management of an individual UPS by connecting the UPS directly to the network with a dedicated IP address, avoiding the need for a proxy such as a server. Embedded technology provides exceptional reliability and enables the UPS to reboot hung equipment. Manage each APC UPS individually via web browser, Telnet, SNMP or via SSL and SSH. Notification features inform you of problems as they occur. For protected servers, the included PowerChute Network Shutdown software provides graceful, unattended shutdown in the event of an extended power outage.

APC's PowerChute Network Shutdown software works in conjunction with the APC's UPS Network Management Card to provide graceful, unattended shutdown of multiple computer systems over a network. Its scalable architecture can support a virtually unlimited number of client systems. Easily configurable via a browser-based interface, customize command files can be run on each individual server in the event of an unattended shutdown.
APC's Switched Rack Power Distribution Units (PDUs) are premium solutions to many of the power management problems seen in today's IT environments. Some of the problems are unauthorized use of power outlets, locked-up equipment, in-rush current, overloaded circuits, and the need of remote access to power outlets in the rack. The Switched Rack PDUs address these problems through individual outlet control, power on and off delays, current monitoring, alarm thresholds, and network management. Individual outlet control allows users to turn outlets on, turn outlets off, or recycle power to equipment, which can reboot locked-up equipment and avoid unauthorized use of outlets. Power delays allow users to determine the order in which equipment is powered up or down. Utilizing the power delay feature will avoid in-rush current, which can cause overloads. Monitoring the current draw at the rack level is key to avoiding downtime due to overloaded circuits. The Switched Rack PDUs provide an aggregate current draw, which can be viewed remotely or locally, via digital display. In addition, alarms will be generated based on user-defined thresholds to alert users of potential circuit overloads (NOTE: Currently available on select models only. Please see feature list for availablity per SKU). Users can access, configure, and control the Switched Rack PDUs through Web, SNMP, or Telnet Interfaces.