APC Smart-UPS® protects critical data by supplying reliable, network-grade power in either traditional tower or rack-optimized form factors. Award-winning Smart-UPS® is the perfect UPS for protecting business critical servers, voice and data networks, point of sale, retail/bank back office and ATM's. High real power output (watts), generous runtime, sine wave output, 16-segment LED visual display, and intelligent battery management make Smart-UPS the leading server class UPS. Included PowerChute® management software provides IT administrators the comfort of safe system shutdown and advanced UPS management. Additional manageability is available through the SmartSlot, an internal accessory slot that allows installation of optional accessories to enhance the performance of your UPS. Designed and manufactured by APC and fully backed with free 24x7 technical support, Smart-UPS remains the industry standard for all network UPSs. With over 10 million units installed worldwide and over 15 years of proven performance, Smart-UPS is a UPS businesses trust for their critical applications.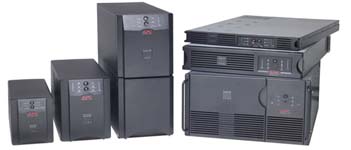 Engineered to deliver the highest level of business continuity possible, Symmetra uses a modular, redundant architecture that can scale power and runtime as demand increases or when higher levels of availability are required. Symmetra's integrated manageability, and hot-swappable, user replaceable power, battery, and intelligence modules enable easy, fast maintenance and serviceability. Its 2-6kVA N+1 redundant rack-optimized form factor makes Symmetra ideal for protecting critical server racks and network rooms. Typical applications include Web and other key application servers, IP based and traditional PBX voice solutions, and enterprise type network switches.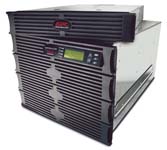 With built-in network manageability, and rack-optimized and tower models available from 4-16 kVA N+1 redundant, the online Symmetra LX is the choice to protect high-performance IT and Telecom equipment in business-critical server and network rooms. A flexible rack/stack design offers unmatched runtime and power capacity in space constrained environments. Symmetra LX allows incredibly fast upgrades and maintenance with virtually all of its parts contained in field-swappable components. These include hot-swappable, user-replaceable power, battery, and intelligence modules, management cards, LCD display, fans, and external battery frames. Additionally the wiring tray, frame electronics, receptacles, and casters can be swapped in minutes if necessary. Symmetra LX achieves industry-leading footprint or U-space needed in an equipment rack, increased speed and ease of deployment, and reduced repair time.